Dubai Delights: Unforgettable Summer Holidays
2 min read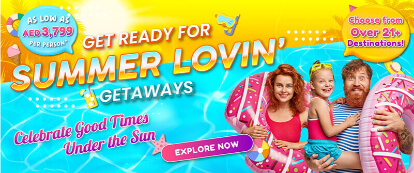 Dubai, known as the crown jewel of the United Arab Emirates, is a city that never fails to dazzle visitors with its luxury, modernity, and cultural richness. While this desert metropolis is a popular destination all year round, the summer season brings its unique charm and a plethora of delightful experiences. Dubai offers an unforgettable summer holiday packages, from luxurious resorts to thrilling adventures. Let's delve into the Dubai delights that will make your summer holiday remarkable.
Extravagant resorts and beaches:
Dubai boasts an impressive array of world-class resorts and pristine beaches, perfect for relaxation and rejuvenation. With luxurious amenities, private beaches, and breathtaking views, resorts like Atlantis, The Palm, and Burj Al Arab offer an unparalleled experience. Sink your toes into the golden sands, indulge in water sports, or soak up the sun while enjoying the warm Arabian Gulf waters.
Indoor escapes from the heat:
Dubai's scorching summer temperatures might tempt you to stay indoors, but fear not, as the city has plenty of indoor attractions to entertain you. Dubai Mall, the world's largest shopping destination, is a shopper's paradise with its vast selection of high-end brands and entertainment options like the Dubai Aquarium and Underwater Zoo. Escape the heat and immerse yourself in a world of entertainment at the famous Ski Dubai, an indoor ski resort where you can ski, snowboard, or sip hot chocolate in a winter wonderland.
Desert adventures:
While the summer heat may be intense, it provides the perfect opportunity for unique desert adventures. Embark on a thrilling desert safari and experience the adrenaline rush of dune bashing, sandboarding, and camel riding. Enjoy a traditional Arabian feast under the stars as the sun sets, accompanied by mesmerizing belly dance performances. For a more serene experience, opt for a hot air balloon ride over the vast desert landscapes, offering breathtaking views of the golden dunes as they glisten in the sunlight.
Cultural immersion:
Dubai's cultural heritage is as rich as its modern skyline. The summer season presents a great opportunity to explore the city's cultural offerings. Visit the Dubai Museum in the historic Al Fahidi Fort to delve into the city's past and learn about its transformation from a fishing village to a global hub. Discover the traditional side of Dubai in the charming Al Bastakiya district, with its narrow lanes, wind towers, and art galleries. Take the chance to explore the vibrant spice and gold souks, where you can experience the hustle and bustle of traditional markets and indulge in some retail therapy.